Mar Joseph Kallarangattu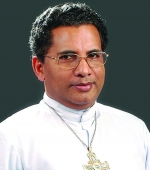 The management of the College is vested in a Managing Board consisting of the Patron, His Excellency Mar Joseph Kallarangattu. His Excellency is the third Bishop of the diocese, was born on 27 January 1956 at Kayyoor. After his schooling, he joined the Good Shepherd Minor Seminary, Pala for ecclesiastical studies. He completed his Major Seminary studies at St.Thomas Apostolic Seminar Vadavathoor and was ordained priest on 02 January 1982 by His Excellency Mar Joseph Pallikaparampil. After served as assistant parish priest at St.George Forance Church Aruvithura and St.Augustine's Forance Church Ramapuram, he was sent to Rome for higher studies in 1984.
He studied at the Pontificial Gregorian University, Rome and took doctorate in theology. His doctoral thesis was "The Holy Spirit, Bond of Communication of Churches: A complete study of the Ecclesiology of Yuves Congar and Nikkos Nissiottis". In 1990, he was appointed Professor of theology at Paurastya Vidyapitham and St.Thomas Apostolic Seminary, Vadavathoor. In 2001, he was appointed the President of the Paurastya Vidyapitham, Vadavathoor and continued in the office till his appointment as the Bishop of Palai on 18 March 2004, at the retirement of His Excellency Mar Joseph Pallikaparampil.
The Episcopal Consecration of Bishop Joseph Kallarangatt was on 02 May 2004 by His Grace Mar Joseph Powathil and was enthroned by His Beatitude Mar Varkey Cardinal Vithayathil, the Major Archbishopat the solemn liturgical ceremonies held at Arunapuram, Pala. Mar Joseph Kallarangatt had published more than 35 scholarly books on theology and oriental liturgy. The Bishop had participated and presented papers in different theological conferences in and outside the country. Ever since the begining of his teaching ministry as a prolific writer he has been writing on various theological and secular topics in different international, national and local journals.
At present, he is also serving as the Chairman of CBCI Doctrinal Commission; Chairman, KCBC Theology Commission; Chairman Syro Malabar Commission for Doctrine. In 2007, His Excellency celebrated his Sacerdotal Silver Jubilee. In February 2012, he is appointed as a member of the Catholic delegation of the Joint Commission for Dialogue with the Malankara Jacobite Syrian Orthodox Church and the Malankara Syrian Church. He attended XIII Ordinary General Assembly of the Synod of Bishops on the New Evangelization for the Tranmission of Christian Faith, held at Rome from 07-28 October 2012.
Under his patronage and leadership, the 31st Plenary Assembly of Catholic Bishop's Conference of India (CBCI) was hosted by the Eparchy from05 to 12 February, 2014 at Alphonsian Pastoral lnstiture, Arunapuram Pala.